As designer Markham Roberts explains in his inspiring new book Notes on Decorating, "There are thousands of moving parts that need to be put together to be successful." In his first book, he went into the basics of design (although I hardly used it in his interior would classify something as fundamental), and now he points out all the aspects that go into making his job so memorable – from working out the deepest wishes of the client to the practicality of challenges and solutions, the crucial addition of layers and the finishing touches of something unexpected.
All these considerations make Markham's room stay with you, not only because of its beauty and comfort, but also because of its extraordinary symbiosis of customer, location and originality. One such project has a chapter of its own – an Extraordinary Home on Nantucket that you may have seen when it was published in Architectural Digest. In addition to being insightful, the chapter titled The Fates is anecdotal and full of humor (be sure to read "Markham's Travel Needs" in the introduction). I know Markham and have met their "smart, funny and naughty" customers here on Nantucket. It's my pleasure to share more about this very special island home, including some unpublished photos and behind-the-scenes information!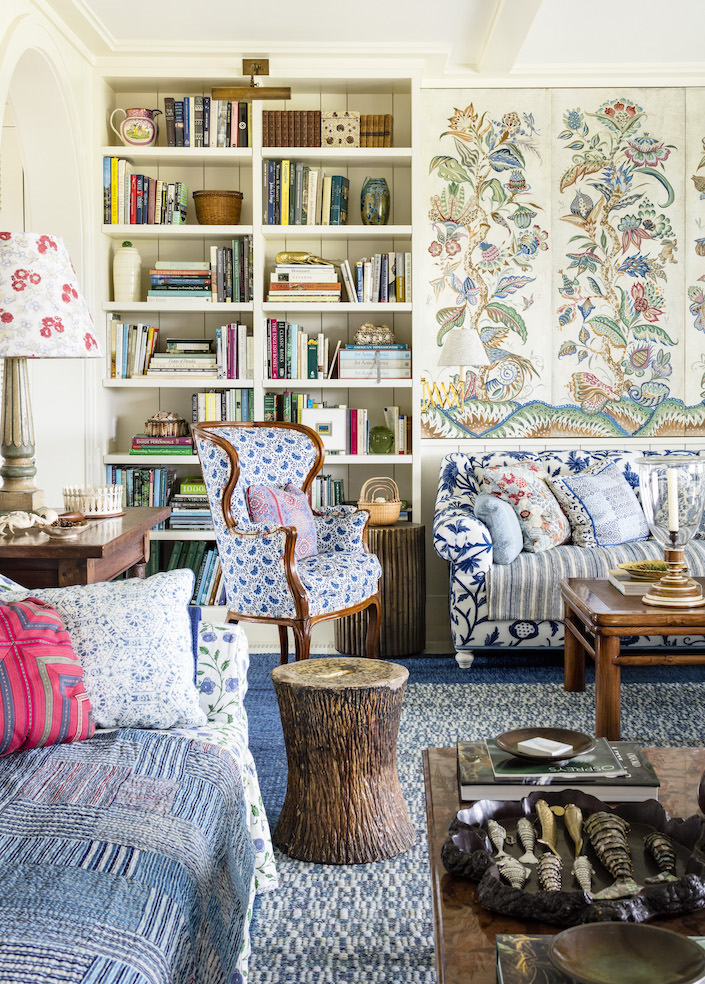 Q: As you say in the introduction of your new book, decorating is a complex business and process, and I can't think of anything more complex than building a large house from scratch on this small and often inaccessible island 30 miles from the ocean to decorate again. How many years and journeys did this project take?
MR: It was about a year and a half of work – in the fast lane, and I spent a lot of time there on the installation, which had to be done in many stages, given the different vendors and the amount of what had to come into the house. I remember the first time I visited the construction site when I got on board, and it was January of the year they had ice waves on the beach. I don't think I've ever been colder than that day in a house that was an open construction site.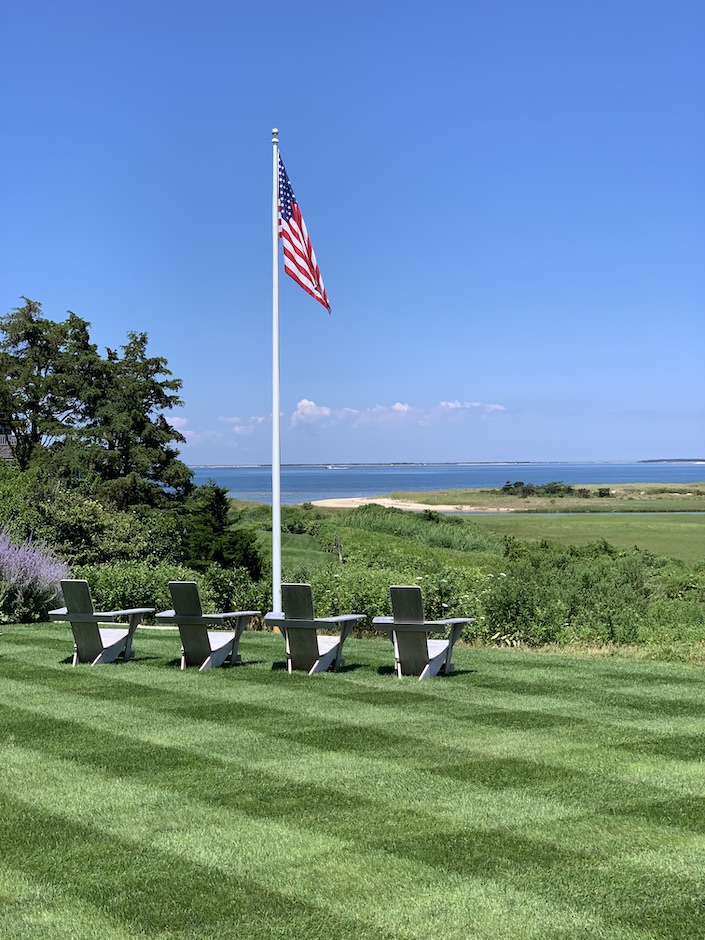 Q: Even though your client gave you the free hand to design everything, were you given instructions to at least start the process?
MR: I knew it had to be a house for both the client and her larger family. We had to make it comfortable for everyone, logical and practical for different needs and we had to deal with the light and seasonal changes as the house is used more than just for the summers. We have made summer throws, as well as summer and winter curtains and pillows, to give the house a different feel when the light changes as the days get shorter. That was very important to the client, but otherwise she didn't give much direction. I think she wanted to see what I would come up with for her and luckily we have similar tastes so we could work quickly.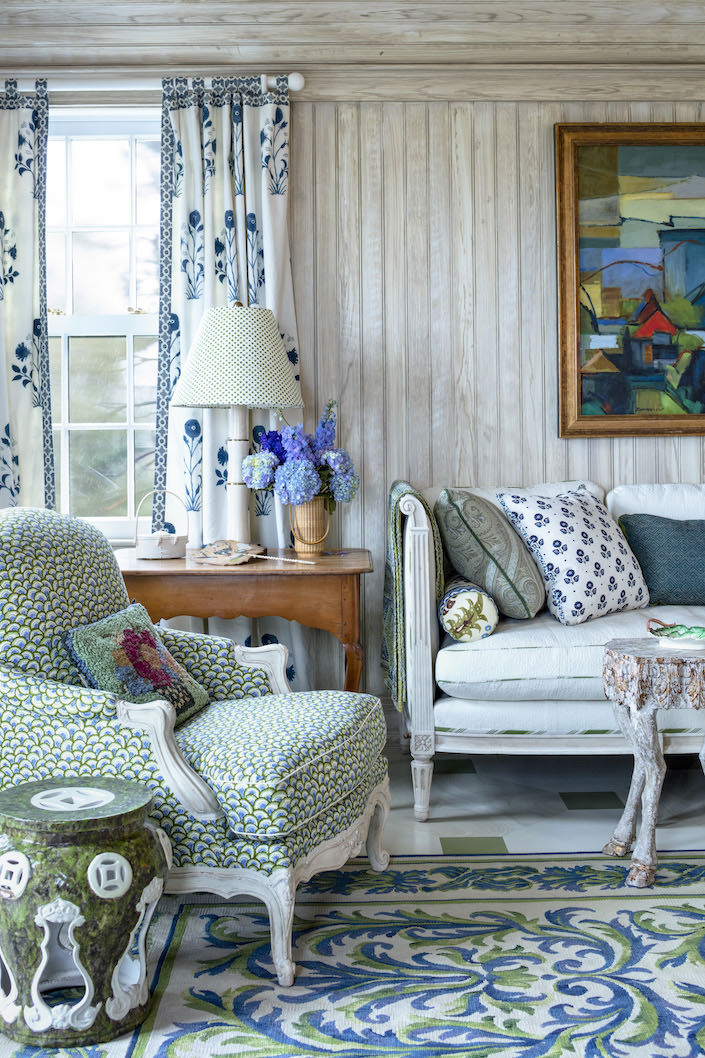 Q: It seems to me that this project was an act of elaborate acrobatics. How can you reconcile a very special sense of place like Nantucket with a broader design scheme and prevent a (albeit large) beach house from becoming one? formal decoration power game?
MR: With the client's exceptional art and important collections of antiques and decorative arts, I've carefully selected more casual materials and patterns, and tried to arrange furniture in a comfortable, less rigid way – all to dispel any imagination that is easy to manipulate could hire possessions like this. The client has a great sense of humor and enjoys her family and friends, and making the house welcoming was important to her.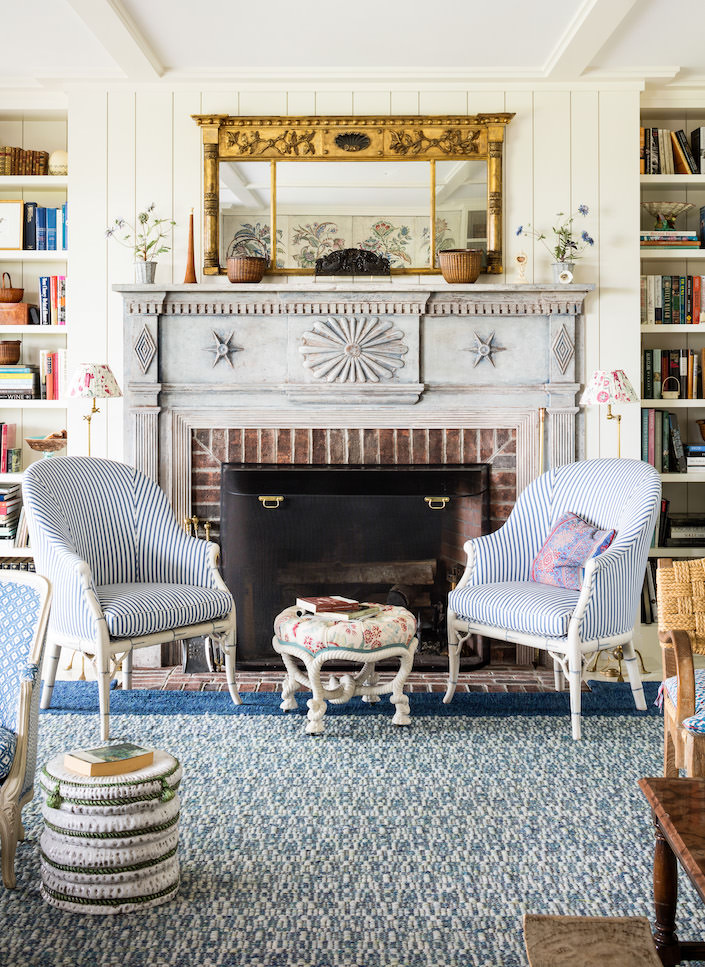 Q: What was the key to adding so many Nantucket-themed collections into the house (baskets, sailor valentines, bird carvings, etc) without looking fictional or expected?
MR: Such things are definitely charming, and the client got a lot of what I tried to use in different ways. For example, we had a number of complete sets of Nantucket stacking baskets that fit inside each other like Russian dolls. We decided to hang the two antique sets high in the entrance hall as sculpture art on the walls and to use the newly made sets around the house as cache pots and for flowers. The ancient set is inaccessible and therefore protected, and the newer ones are available. We also used Seaman's Valentines – they're hard to resist, but they live in the granddaughter's bedroom where they go with her pink and lavender scheme, or they were used in bathrooms as they can't be damaged by moisture.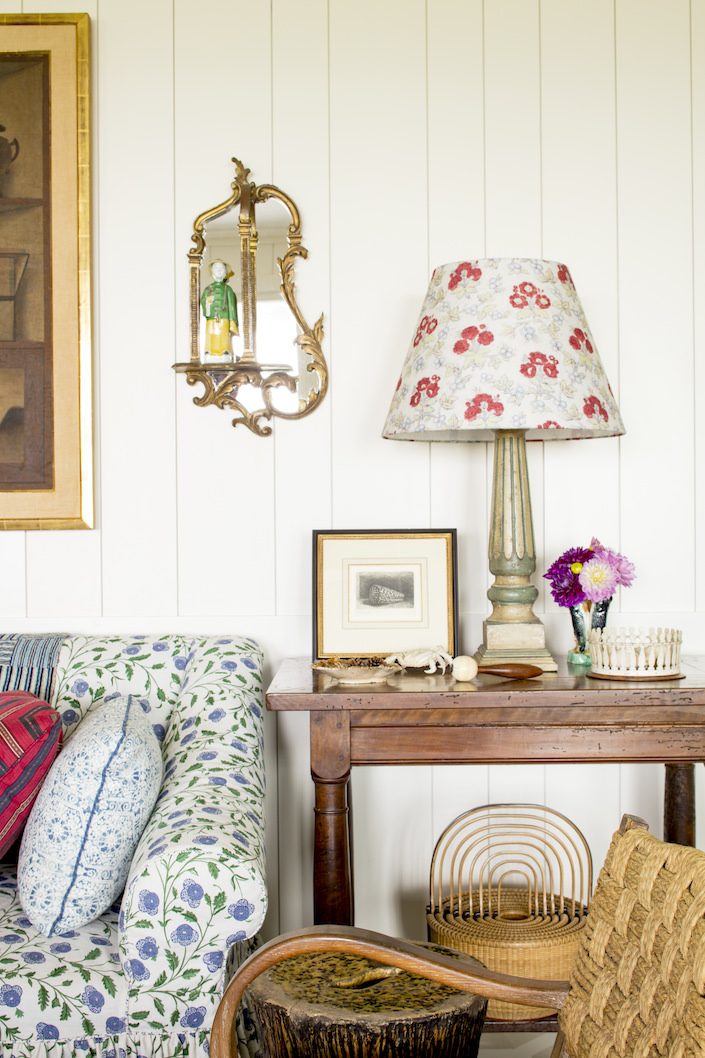 Q: I can't even imagine how you started sorting and selecting your client's huge collections. How did you even start
MR: That was the challenge of this job, evaluating and using the many things the customer had. We had to work on pieces and think about different ways of using things so that they would feel new to them and fit into this new house. Take the large collection of carved water birds; Instead of displaying on tables and on bookshelves (which would have meant doing without books), we made special brackets and hung them in groups on the walls in two areas to create herd art and give these spaces a different visual interest to lend.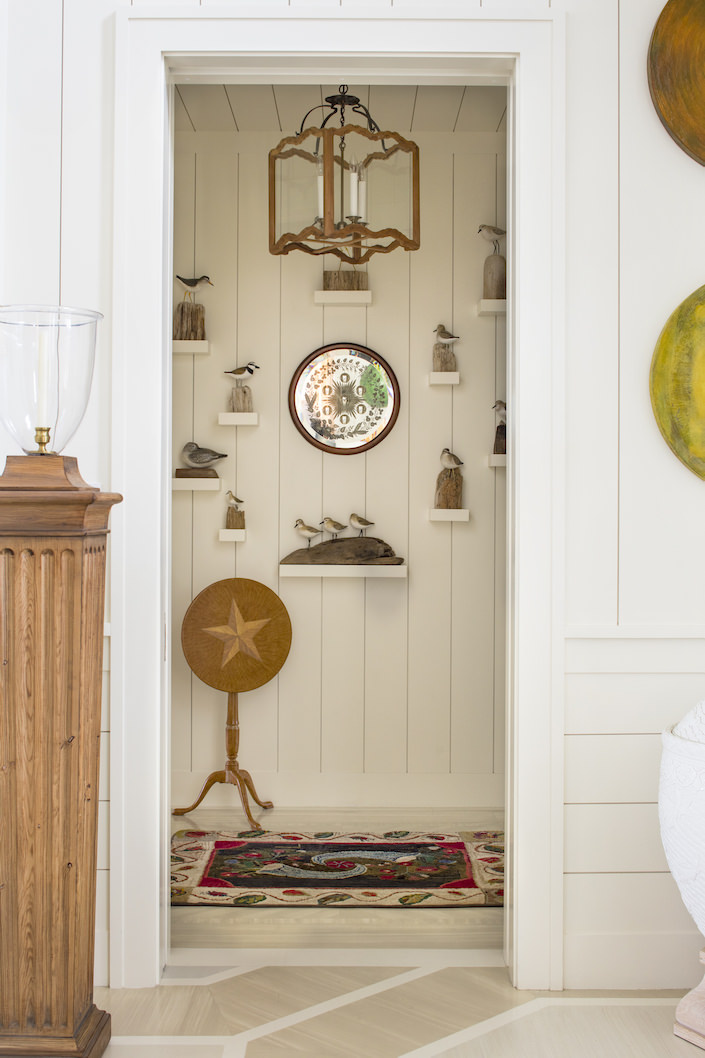 Q: What was the key to presenting these collections in an unpretentious way so that they are more charming than flaunted.
MR: I think it was more of an overall concept than a conscious decision that both the client and I appreciate less formal things for a house like this. None of us naturally attract fancy or precious fabrics and cut too much. When making decisions such as using the various designs of wooden boards as an architectural backdrop in the many areas of the house that are painted in clear white, we put your things in the limelight and highlight them against a simple or at least seemingly simple backdrop. Had we hung the important Indian watercolors of birds of prey from the 18th century and the collection of colorful chakra paintings by Julia Condon in the entrance hall on fancy walls made of glazed plaster, it would have felt very different – one that I don't find so inviting.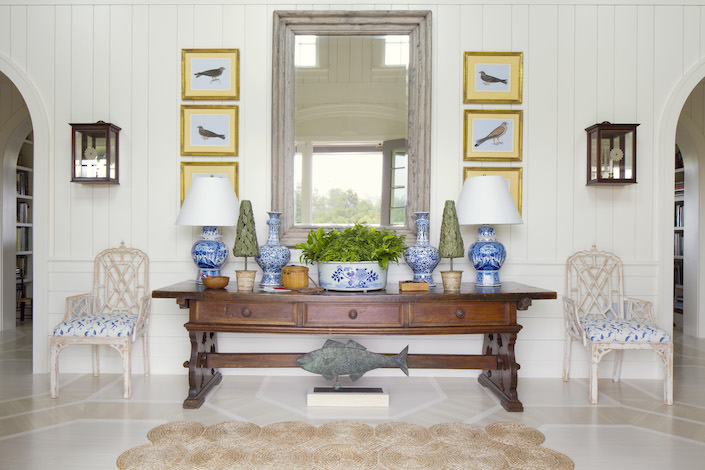 Q: What key components have helped you draw the line between sophisticated and bespoke design and understated style so successfully?
MR: Take the upholstery of the dining room wall, for example. I wanted to create the effect of the siding with the direction of the ticking strips and while this is an incredibly complicated and precise task of perfectly aligning each strip and working it out with the architectural design, I wanted it to feel simple and not be obvious. The use of mattress ticking helped detract from formal quality, appear less fussy, and keep the entire palate of the room in the room faded or muted. This allowed the interesting parts of the room to really shine.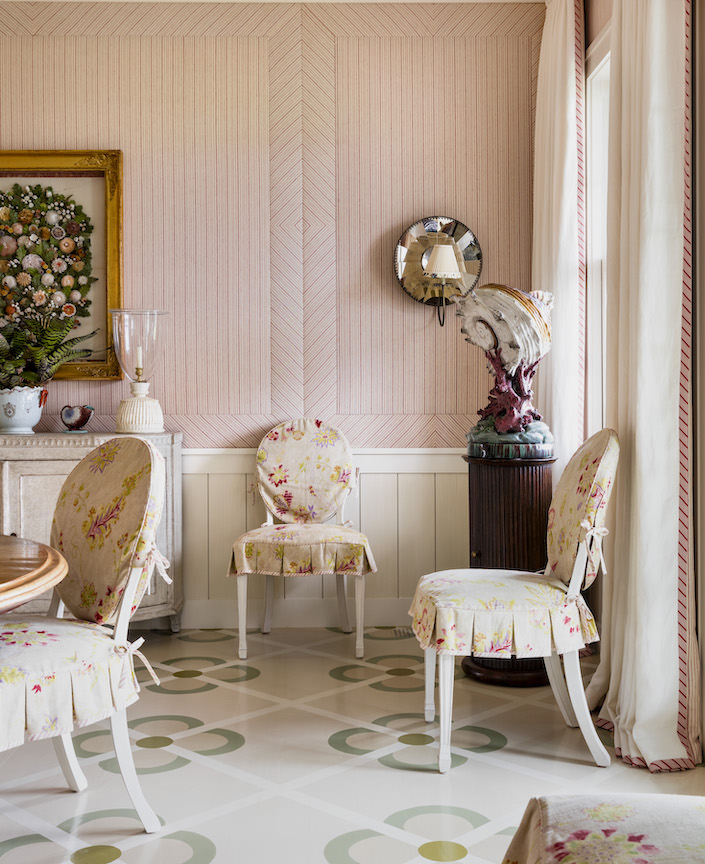 Q: There is a strong tradition and history of handicrafts on the island. How did you find so many people to work with locally?
MR: My client has been in Nantucket for decades and she already had a great affinity for the local craft so I was happy to learn from her experiences and relationships. We worked with Hilary Anapole to weave custom rugs in the great loom tradition, and there has never been a time I've visited John Sylvia's lovely shop at the end of Main Street and haven't gotten away with something special.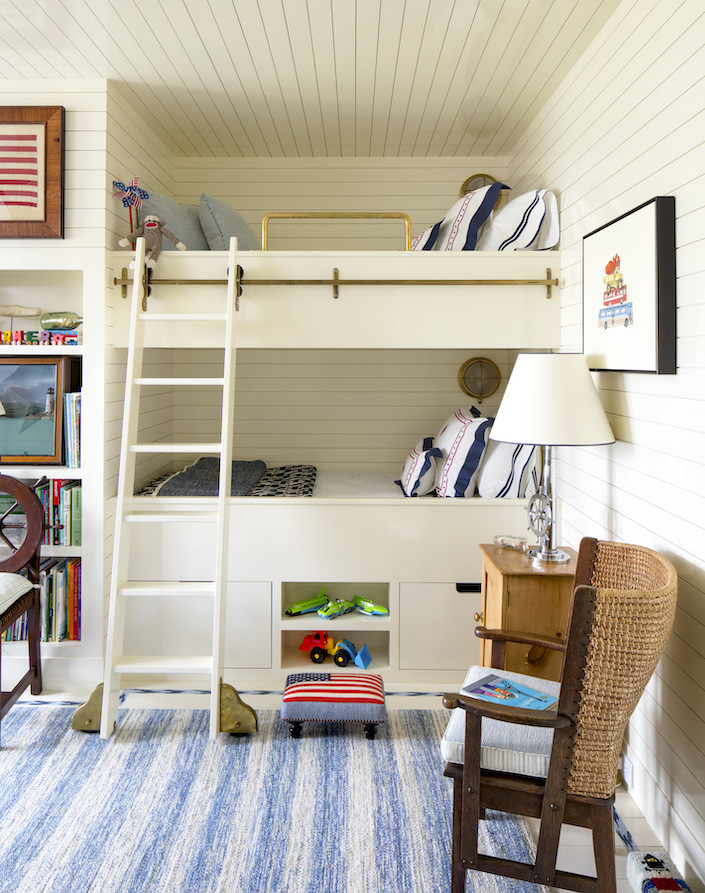 Q: You kept the entrance and halls clean and bright with the white mill and Bob Christian's elegantly neutral painted floor. What was that thought?
MR: The room is two-story with a gallery of the landing above. It has tall windows and, interestingly, is shaped with the roof lines. We wanted to play with the wooden boards in their directions in different places on the white walls and make the walls stand out against Bob Christian's beautiful floor. Both treatments were done to visually highlight the different parts of the room – the old English refectory table, the Dutch mirror, Indian watercolors, antique nantucket stacking baskets, the province's painted and rushed benches, Julia Condon's artwork and Chinese export and delft blue and White. It's busy so I wanted to balance it with the simplicity of white walls.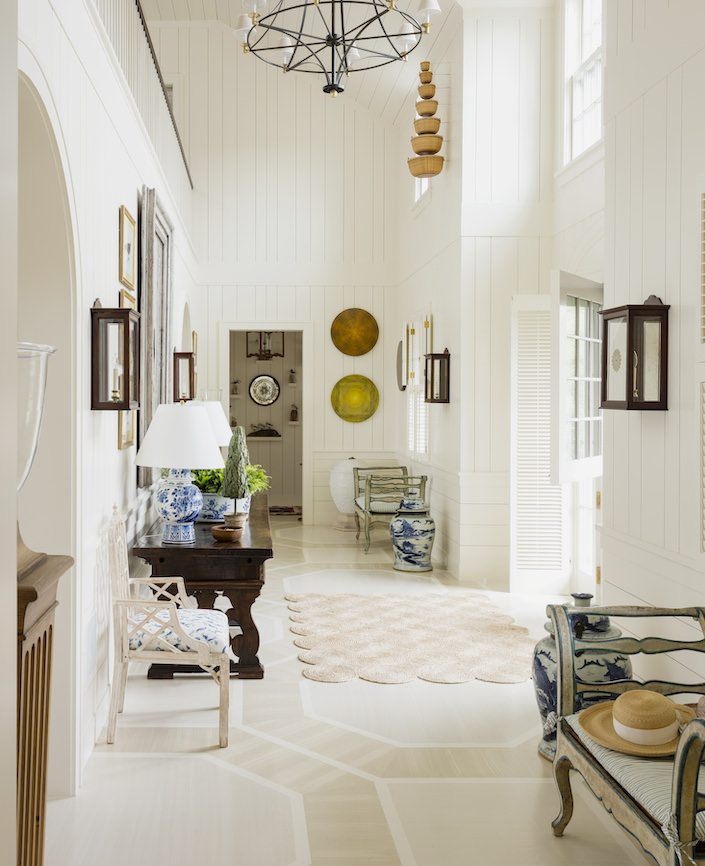 Q: You are known for your brilliant use of colors and patterns and this home in particular has a variety of both. Any advice on how to achieve the mix without culminating in a dizzying effect?
MR: Put it together and see how it works. If it looks bad, scrap it and try something different. and remember that things don't have to and probably shouldn't go together. It's fun to experiment with color and pattern.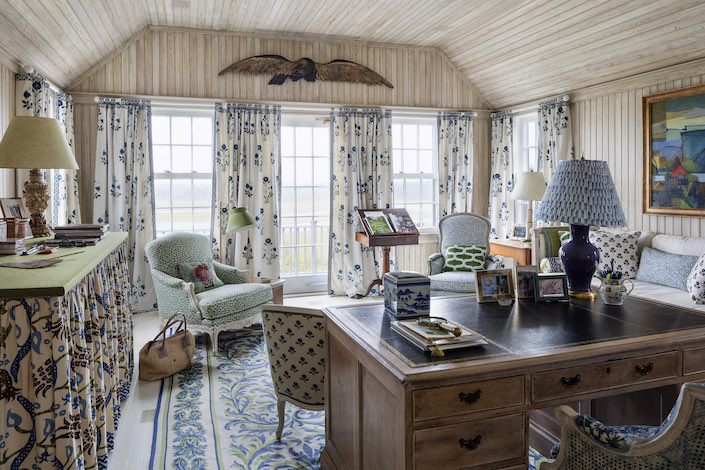 Q: While a blue and white color scheme for a Nantucket home might seem like an obvious choice, you've managed to tone down any hint of it to make you feel appropriate, but not overwhelming or obvious. Any tips?
MR: I don't really think of this house as being blue and white, but when I look at it there are four rooms that are basically blue and white. Again, I never like it when things go together, and I think you have to bring in contrasts so that it doesn't get boring. Orange and Pompeian red contrasts are burnt in one of the rooms, in another all the green, brown and gold tones of all palissy goods are hung on the walls, and the client's bedroom is beautiful pinks, both soft and light, to match to their paler blue-and-white scheme.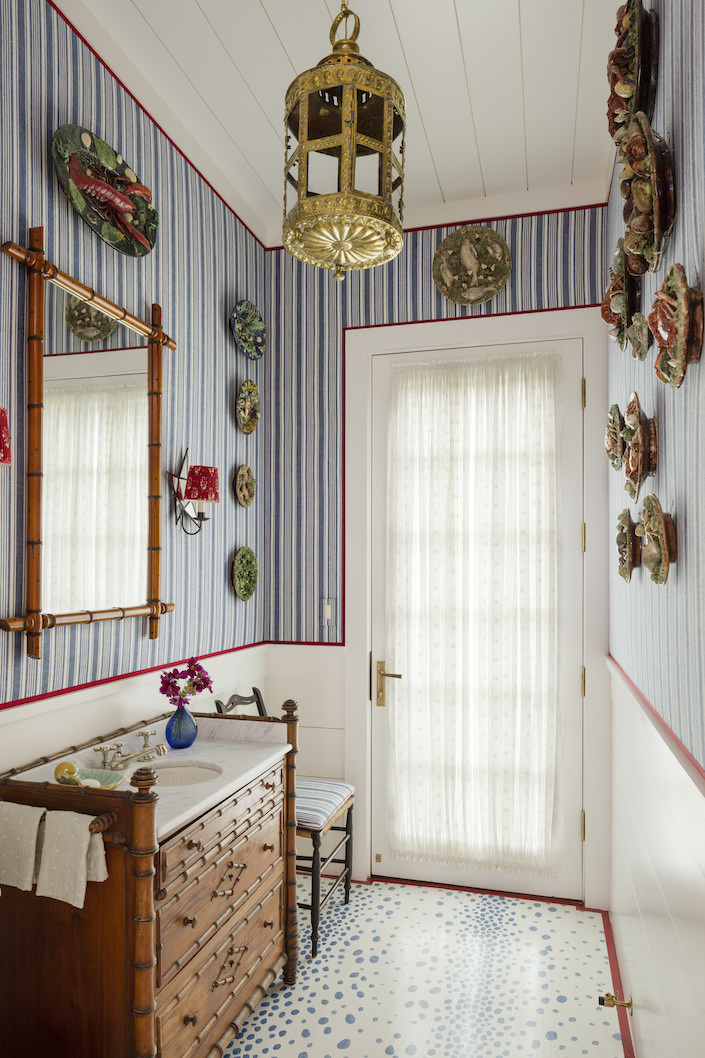 Working with a client like this who is fun and smart, loves to decorate, has great things and most importantly wanted to let my creativity run free was a great experience. I think the result is a house that suits her perfectly and that is its success.
All photos by Nelson Hancock
Thank you Markham – it is always a pleasure to chat with you and see you on the island soon!