my morning routine
Erin Kleinberg |
Founder of SIDIA and CEO and owner of Métier Creative
The self-proclaimed "greatest morning person in the world" Erin Kleinberg lets her time count. Toronto-based founder of cozy clothing brand SIDIA, co-founder of The Coveteur and CEO and owner of award-winning advertising and branding agency Métier Creative uses her morning to ground herself for the rest of the day. "I know when I'm most efficient and when I'm lazy, and I play that into strategically," she says. "I think the time before 9 a.m. is the opposite of hectic."
As soon as she goes to the races, Kleinberg refreshes herself all day by changing her job. "I live for being on set, staying creative, and collaborative at the IRL, so it helps me to take breaks for calls or have quick meetings throughout the day," she says.
6:30 a.m .: I wake up early thanks to my two human alarm clocks – my kids, Parker and Ford. We all hang out in my bed to cuddle and look at something while I check my calendar and answer a few text messages and emails. One of my fondest memories from childhood is when my brother and I gathered in my parents' room on rainy afternoons. It was a place of family, refuge and peace and I love to incorporate that feeling into our day.
7:15 am: My time alone in my bathroom oasis is my self-care moment. I find the ritual of cleansing, caring for my skin and my body and being alone with my thoughts crucial to shaping my day.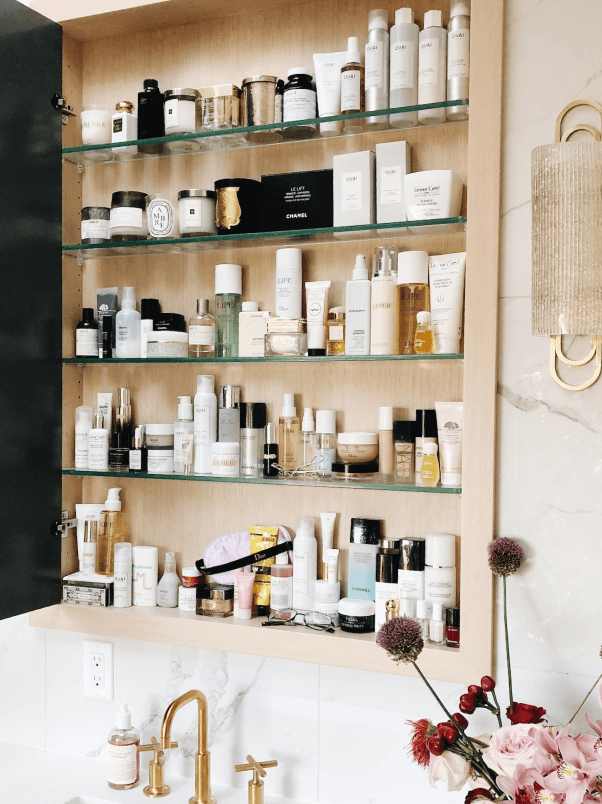 I'm a great scent person and feel like it affects my mood and energy. I love lighting this candle to add some mood while I shower and get ready.

I am constantly testing different products – fragrances, shower gels, skin and hair care – because many of Métier's customers work in the beauty sector. My shower looks like a pharmacy! At the moment I'm in love with the Sangre de Fruta shower gel and the Crown Affair hair oil. My mom just bought me one of these head massagers – I use it to lather up my shampoo.
Sangre de Fruta Garden of Earthly Delights shower gel, $ 48

SHOPPING NOW

Crown Affair The Set Goop, $ 220

SHOPPING NOW

goop pick

Manta Manta Hairbrush-Goop, $ 30

SHOPPING NOW
I step into my soft, luxurious SIDIA caftan as I come out of the shower. For skin care, I wear my soft SIDIA Cloud Nine headband – the soft velor surrounds my head, but it protects the annoying baby hair after the birth (it also looks chic). I splash cold water on my face first and cleanse, exfoliate and apply serum and moisturizer.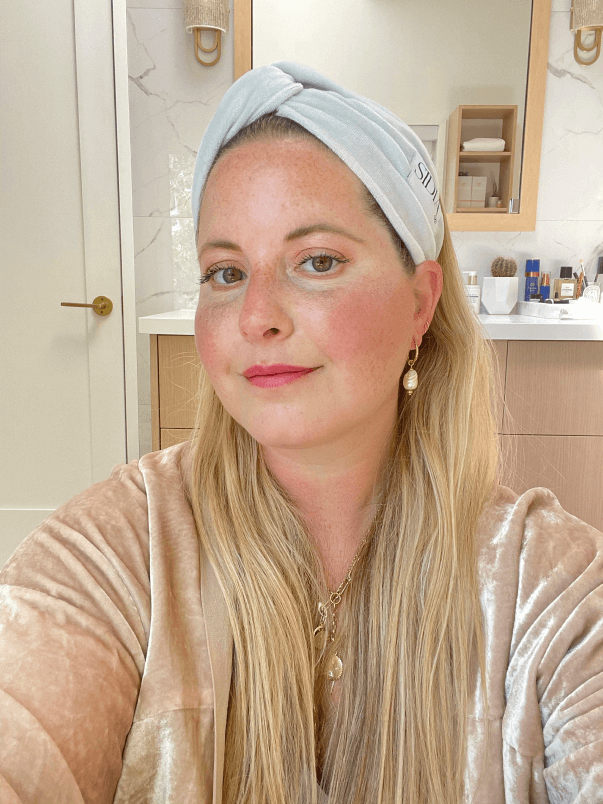 The process of peeling and regeneration is everything in my routine and I love the GOOPGLOW peeling. Every time I use it, the makeup glides on more smoothly, leaving a glowing, glowing effect.

Goop picks
I became addicted to the goop face oil – I press it into my skin before finishing my routine with my secret weapon: a gua sha and ice roll massage. The daily massage helps with lymph drainage and purification, and I feel better after my TMJ from the night before. I'm obsessed.
goop Beauty GOOPGENES All-in-One Super Nutrient Face Oil goop, $ 98 / $ 89 with subscription

SHOPPING NOW

Wildling Facial Gua Sha Empress Collection goop, $ 129

SHOPPING NOW
For the last year and a half of the Zoom meetings, I nailed the five-minute makeup look. First, I use my goop lip balm to nourish and hydrate it; Then I apply paint to my eyelids, apply mascara, and fill in my brows with Saie Brow Butter.
goop Beauty GOOPGENES Clean Goop Nourishing Lip Balm, $ 20

SHOPPING NOW

ILIA Limitless Lash Mascara Goop, $ 28

SHOPPING NOW

Saie Brow buttercream, $ 18

SHOPPING NOW
Next, I clean out redness and bags under the eyes with Kosa's Concealer and add a few sun-kissed cheeks with the Westman Atelier blush pen. I top off the look with a creamy highlighter that glows rather than shimmers.
Kosa's Revealer Super Creamy + Brightening Concealer and Daytime Eye Cream Goop, $ 28

SHOPPING NOW

Westman Atelier Baby Cheeks Blush Stick Goop, $ 48

SHOPPING NOW

goop pick

Westman Atelier Lit Up Highlight Stick in Lit Goop, $ 48

SHOPPING NOW
7:30 am: I'm doing five minutes of breathing work from Erika Posinelli. The practice enables me to be calmer during the day when I run my start-up SIDIA and my creative agency Métier Creative. It's one of the few routines I've been going through for months. It helps me set the stage for the day and helps me stay much calmer and less fearful.
7:40 am: In the morning, when I'm on schedule with the times, I love making my signature healthy pancakes, which are super simple – just egg whites, oats, a pinch of cinnamon, and a few dark chocolate chips for a sweet taste. Otherwise I make my favorite smoothie (kale, spinach, banana, apple, fresh mint as well as chia and hemp seeds) or a scrambled egg white with fresh peas, crumbled feta, finely chopped chives and my secret ingredient: Jennifer Fisher salt.
Jennifer Fisher Kitchen Universal Salt Goop, $ 12

SHOPPING NOW
8:15 am: I'm going for a solo walk through the gorge in my neighborhood. Nature, fresh air and hiking magically drive me. It's so simple, but it does wonders for my mind, heart, body and soul. During the walk, I listen to podcasts like "Having It All and Other Lies" by Sara Riff, "How I Built This" and "33 Voices". Or I'll call my best friend Jenna Wise to meet me.
9:10 am: The work craze begins!