goop beauty GOOPGLOW restore
+ Shine Hair Serum goop, $ 48 / $ 44 with subscription

SHOPPING NOW
More shine? Less frizz? Amazing texture At goop, we want these benefits, regardless of whether we blow-dry, iron, apply styling products or use chemical services to change our hair structure. "Just like I'd rather have a great skin care product instead of a lot of makeup," says GP, "I want my hair to look and feel healthier without all of the styling tricks."
Hair color, heat styling, and even hormones can change the look and feel of your hair dramatically – and we wanted our hair back. We wanted a simple solution with instant results that would work for every hair type and texture.
The solution: a new preshampoo glow serum treatment that smooths out damage, frizz, dryness and split ends and creates a noticeable shine and texture that will last until your next shampoo. "It's kind of a miracle for my hair," says GP. "I let it sit for twenty minutes before shampooing and the results last until I shampoo again – I don't know how to do it, but it's amazing."
She had wanted a serum for a while. "Of course I bleach my hair," she says. "Especially after I started working out with Tracy Anderson – I sweated a lot, pulled my hair up in a ponytail, and everything that came with it – started to break myself. My solution was to put in conditioner beforehand, like a heat and conditioning treatment. But it was a bad idea – all of that conditioner with all of the chemicals dripping on my face. I wanted a serum that would be absorbed and make a noticeable difference. And what the team has brought out is a game changer. "
The new GOOPGLOW Restore + Shine hair serum, which has been clinically proven to deliver results, consists of vitamin C to seal the cuticles, omega-rich sea buckthorn oil, moisturizing squalane and shine-enhancing plumeria mono oil, as well as macadamia, castor, sesame, and sunflower oils to treat any signs of hair damage combat from overwork and frizz to dryness and split ends. And while you'll notice a change in your hair the first time you try it on, repeated use pays off with added shine, smoothness, and great texture.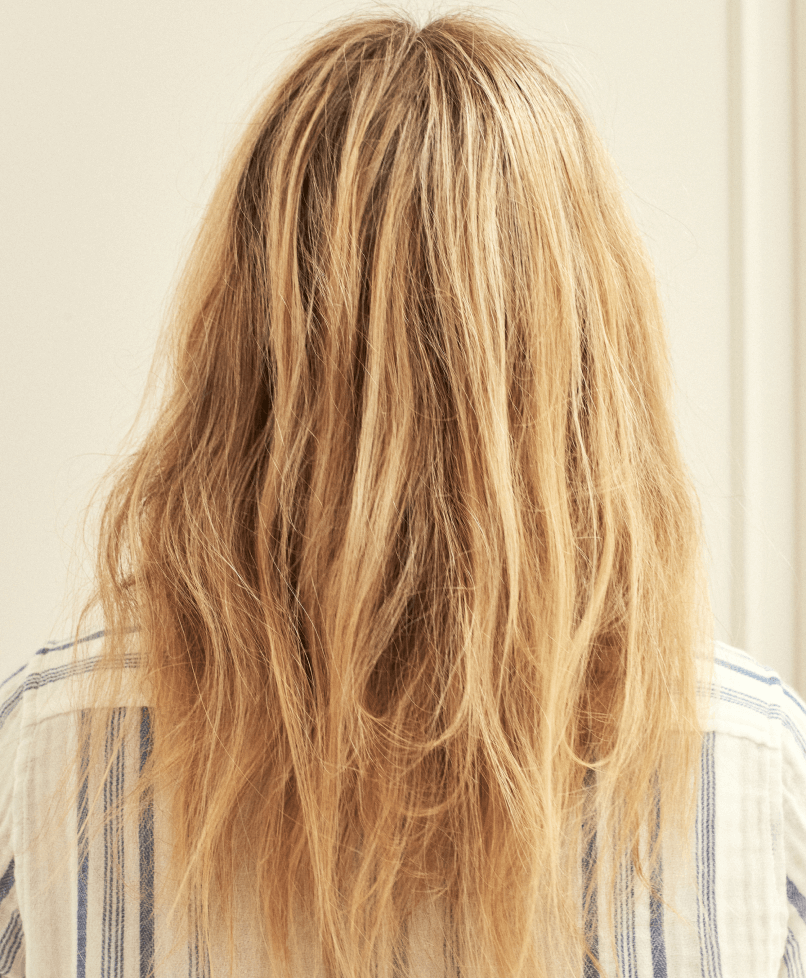 BEFORE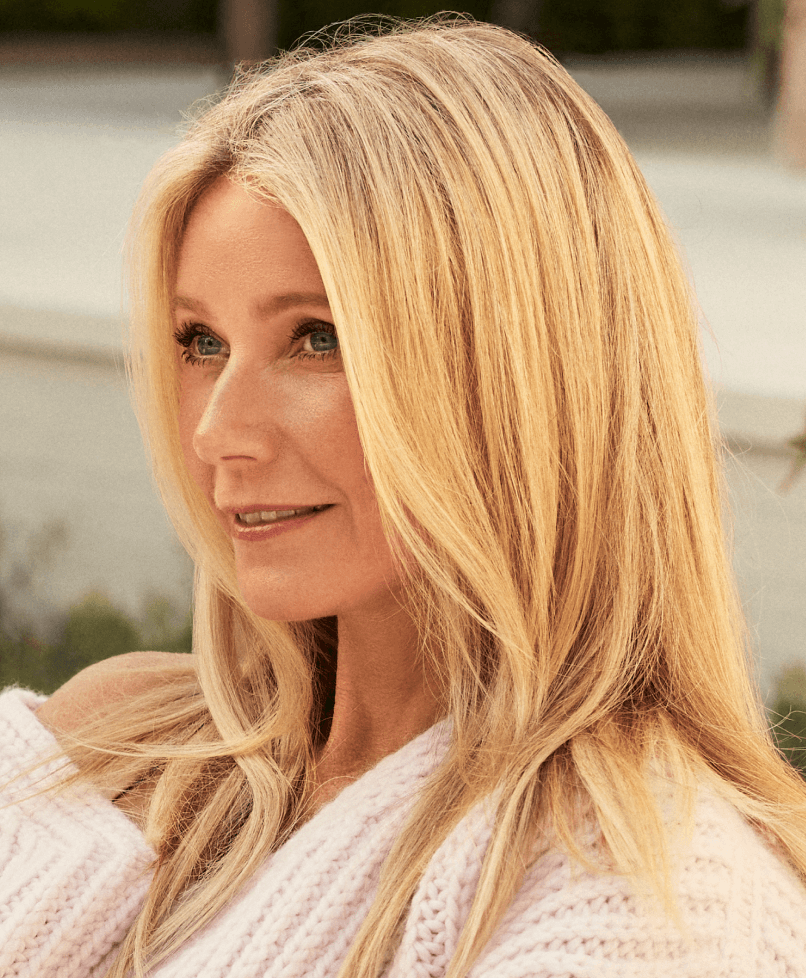 AFTER
The GP's new hair routine
The great thing about the serum is that you can simply add it to your routine as a first step – a foundation for shiny, healthy looking hair. You can do it with any shampoo or every couple, depending on your hair. GP, whose hair has some damage and frizz, likes to use it in any shampoo. "Before I work out or do an infrared sauna, I shake up the serum and divide my dry hair into two sections," she says. "I rub a pipette of serum (how much you use depends on your hair type and length – mine takes a lot) between my hands and run it through my hair from root to tip, focusing on my tips where it is the most damaged. "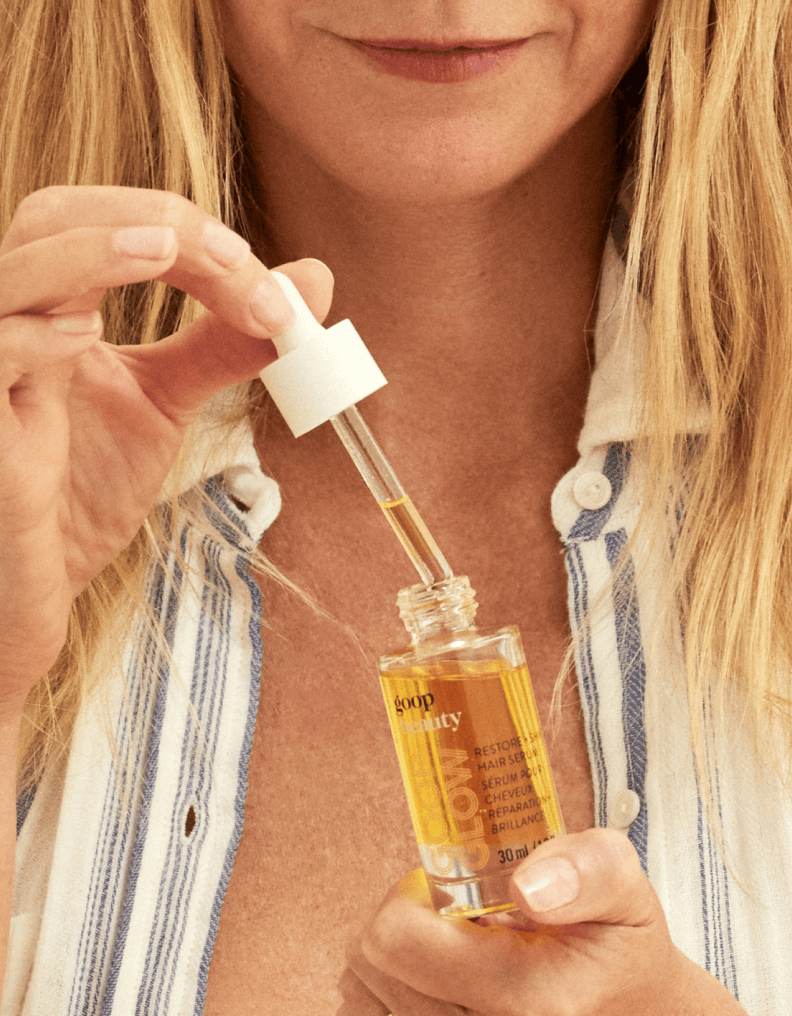 "I tucked it in a ponytail with a silk slip tie, which also protects against breakage, and then the heat of training or sweating in the sauna turns it into this super-efficient beauty and wellness treatment for me. It only works in twenty minutes, however, so it can be quick and easy if you don't have time to exercise! "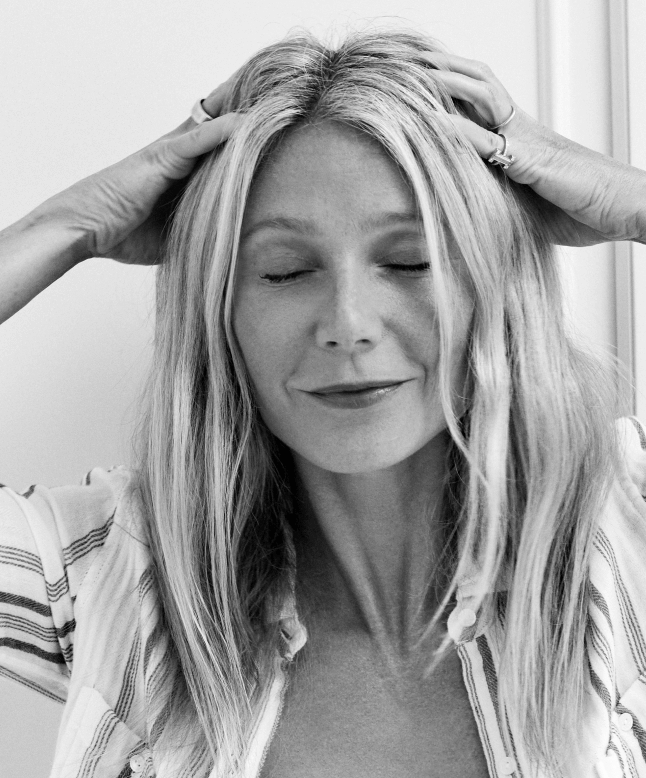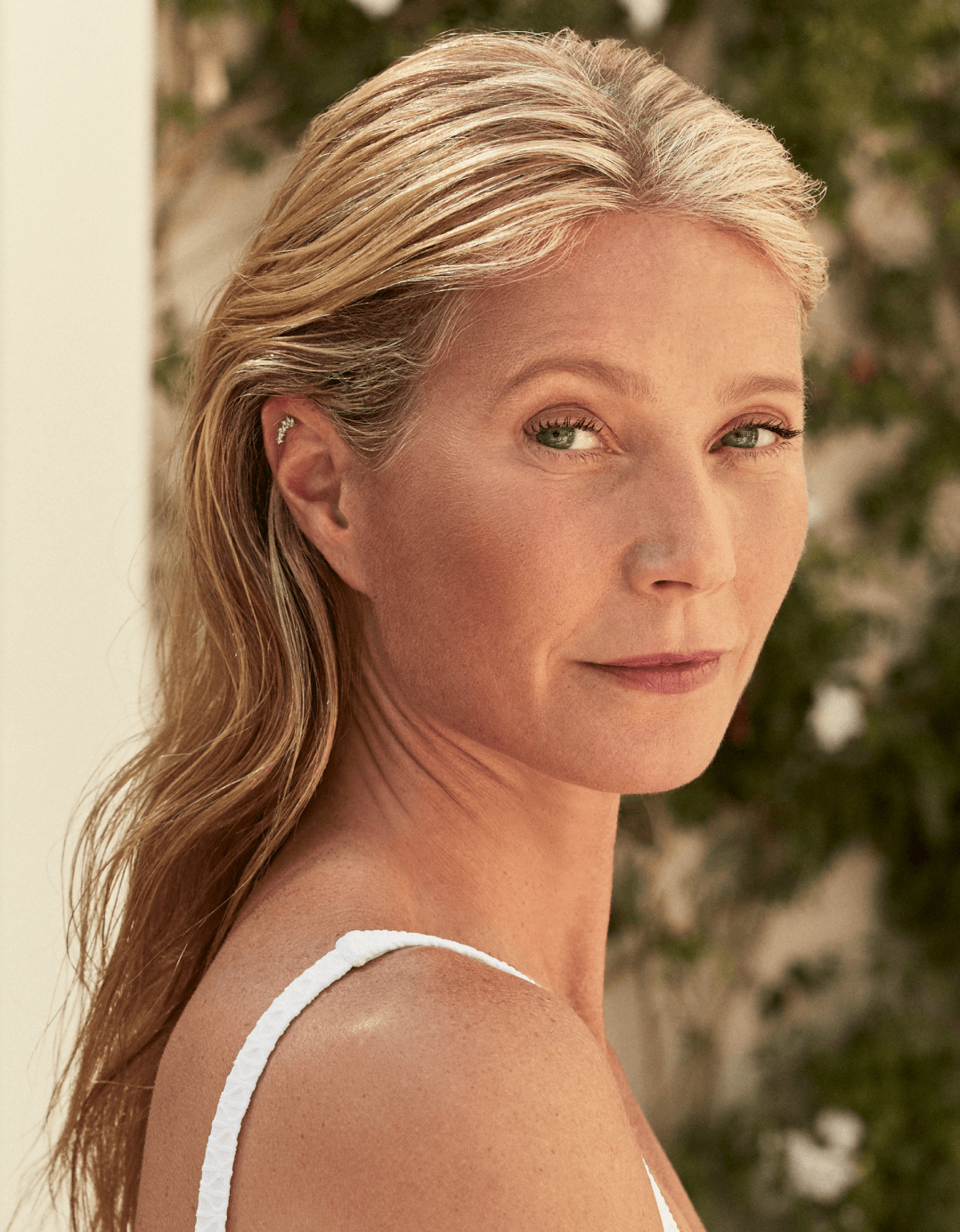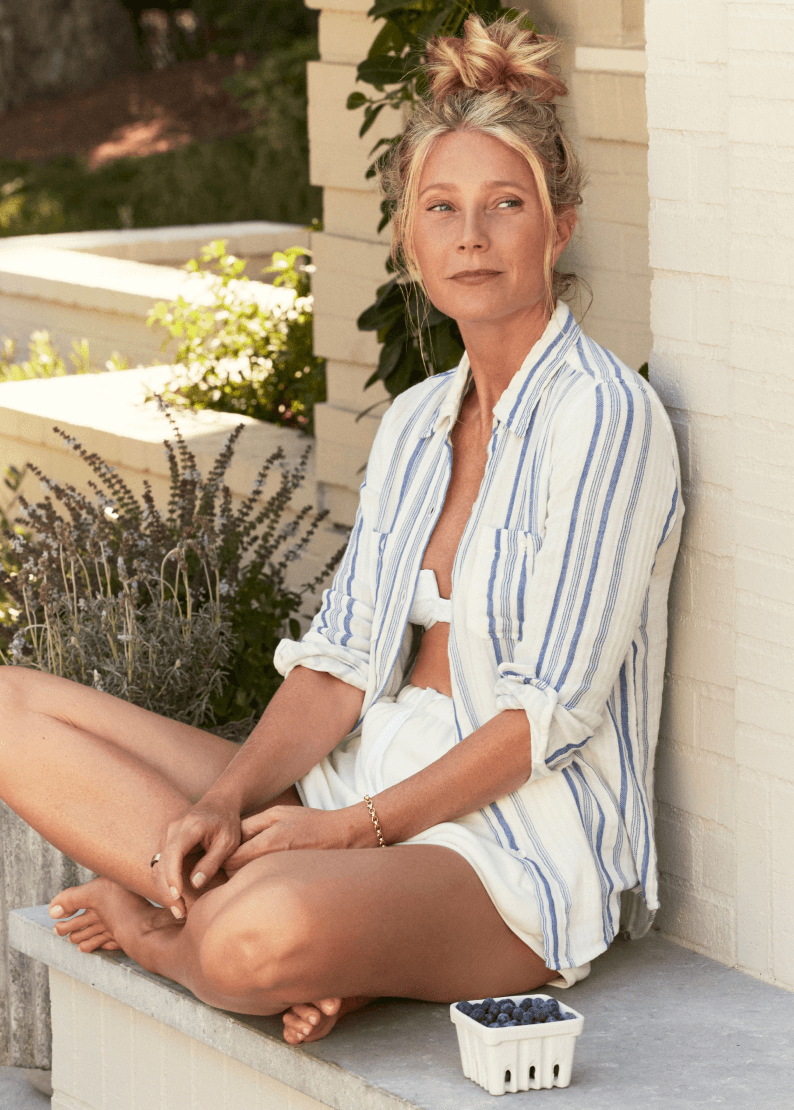 "I shampoo the goop salt scrub twice a week and when I do I use the Crown Affair mask as a conditioner – I'm obsessed with it," says GP. "It's one of those products that you can't believe are clean. Or I use a lighter shampoo and conditioner – Innersense is fantastic. I also take Viviscal every day. "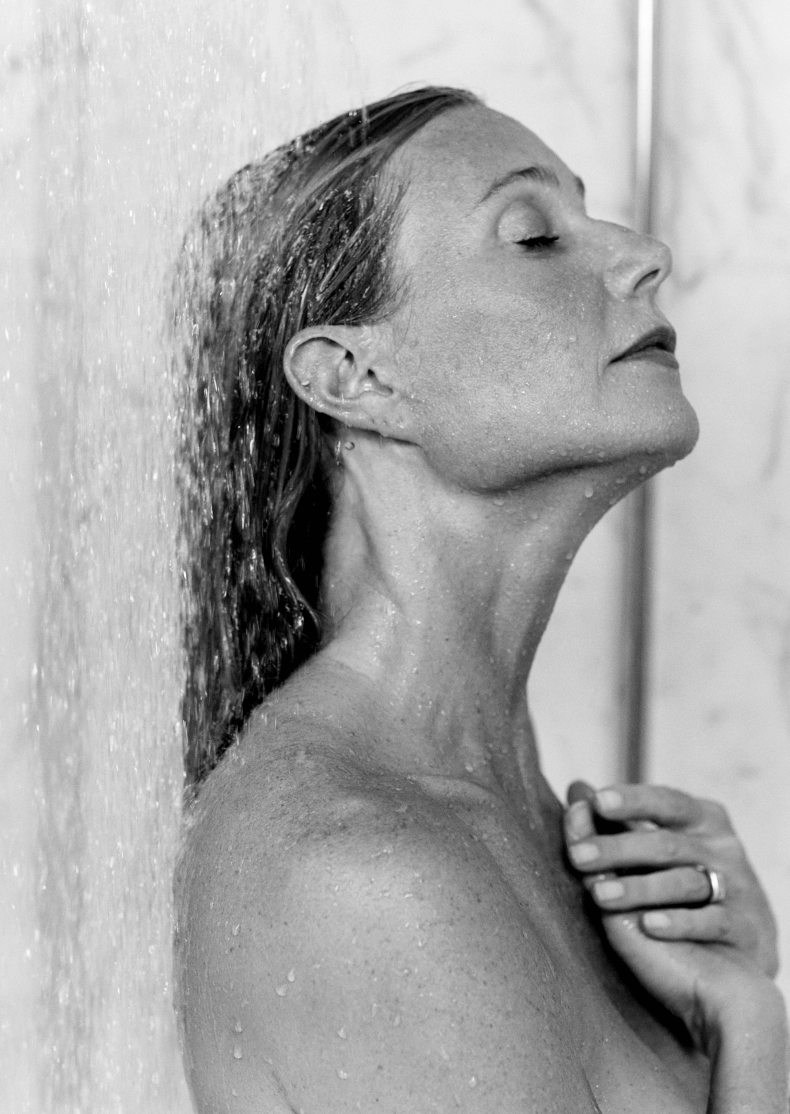 "I get out of the shower and wrap my hair in an extra absorbent hair towel for a minute (I don't let it sit for too long) end and comb through," she says. "I really never have time to blow-dry. When I have a meeting, I take my half-wet hair and twist it to one side and that's my look. When it dries, it shines with this great softness – healthy vibes. "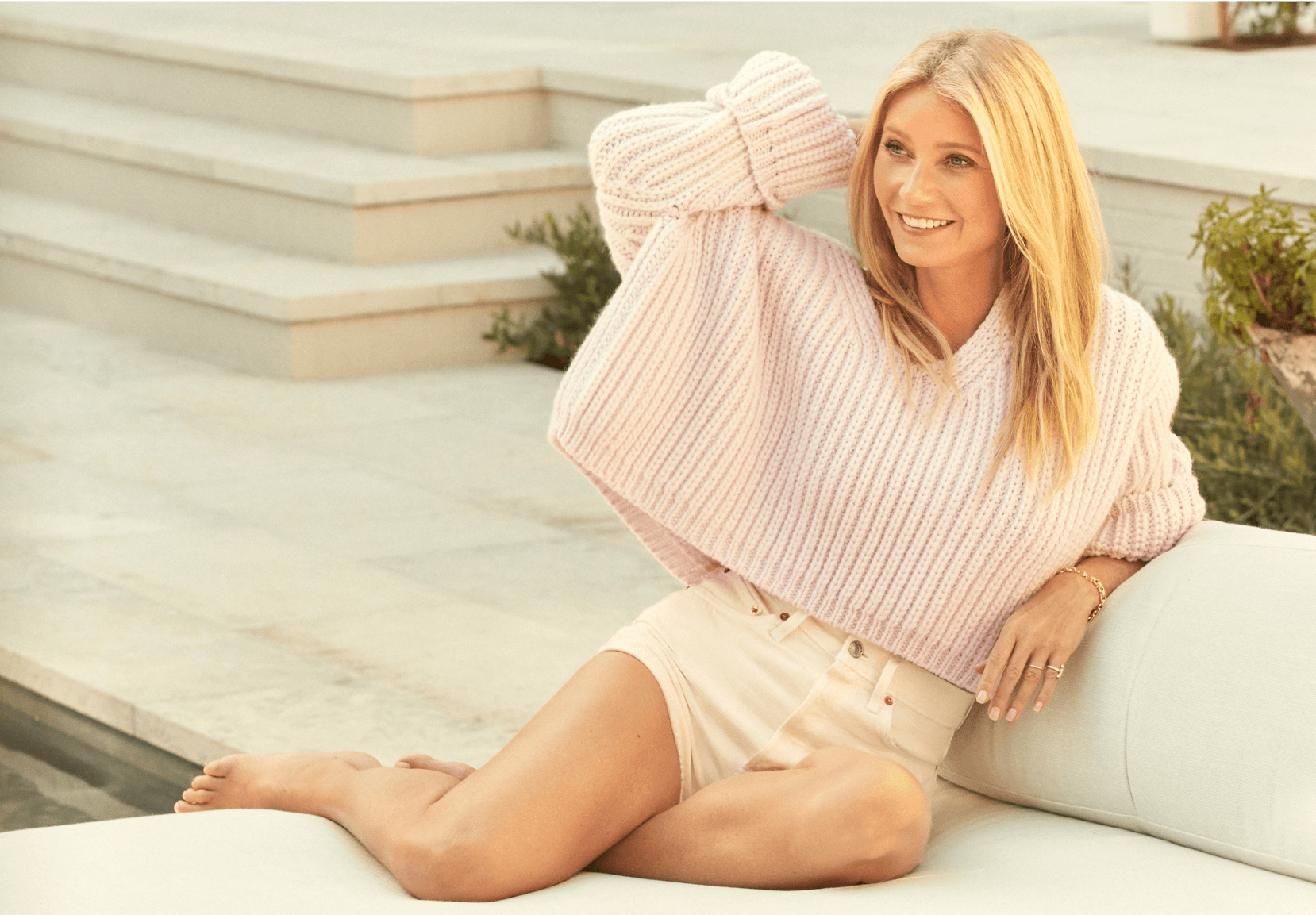 goop Beauty G.Tox Himalayan Salt Scalp Scrub Shampoo goop, $ 42

SHOPPING NOW

Crown Affair The Renewal Mask Goop, $ 58

SHOPPING NOW

Aquis Lisse Luxe Hair Towel Goop, $ 30

SHOPPING NOW
HigherDOSE infrared sauna blanket V3 goop, $ 500

SHOPPING NOW

Slip Silk Scrunchies – Little Goop, $ 39

SHOPPING NOW
Innersense Pure Harmony Hair Bath Goop, $ 28

SHOPPING NOW

Innersense Pure Inspiration Daily Conditioner goop, $ 30

SHOPPING NOW

Crown Affair The Set Goop, $ 220

SHOPPING NOW
The goop beauty department before and after the serum
As soon as the serum was ready, the beauty department got some preliminary samples. Senior Beauty Editor Megan O'Neill is thirty-six with beautiful, really curly, textured hair and has just had a baby. Brianna Peters, our Associate Beauty Editor, has just turned thirty and has straight, colored hair with lots of highlights. Beauty director Jean Godfrey-June is 57 years old, has wavy hair that she colors, and its texture changes in ways she doesn't like – the top is frizzy and rougher than it used to be. But despite their very different hair types, all three editors saw significant results after trying the serum.
Megan loves soft, artfully bedridden locks. "My kinky texture tends to be dry, brittle, and prone to puckering," she says. "But the serum – it's so moisturizing – smooths my thicket from spirals to silky spirals. My mother, a woman who praises very sparingly, sounded like she had been paid with crap when I came out of my bedroom one morning: "What are you doing with your hair today? It is amazing.' The serum gives me soft, flowing, perfectly disheveled curls. "
She uses the serum about once a week. "I like to take a two-minute lunch break by leaning over my laptop and massaging it from roots to tips – about a drop and a half will do. I let it sit when I finish the work day. I shampoo (with Rahua's super moisturizing shampoo) and condition (with slightly rose-scented Sangre de Fruta) the night before bed, twisting my hair in a few small braids around my head for extra luscious texture. In the morning and for the rest of the week, my locks are shinier, more bouncy, and more random than ever. I just fucking love this stuff. "
Jean, who had always been quite happy with her hair, had noticed more frizz, coarser texture, and less fabulousness lately. "It turns out that your texture can change as you age – my colorist Marie Robinson brought the news to me about a month ago (the color scheme also helps, but that's on top of the change as you get older)" , she says. "It's like your hair suddenly looks messy instead of cool on the second day. And all I can say is, if this texture change sounds familiar, give the serum a try! It gave my hair back to me – shine, waves, smooth texture, light feel. Before, my hair was the only thing I could count on, and now I can count on it again. And strangely enough, the effect lasts for two shampoos for me. "
"I do my routine with it every two or three shampoos," says Jean. "I wear the serum from the tip of my hair – not exactly from the roots, a little further outwards – to my ends and go running, take a yoga class or jump in the sauna my friend built during the pandemic. After twenty minutes, I'm shampooing and conditioning with Grown Alchemist's Nourishing line that I can't rave about enough. I spray the ends with the ingenious leave-in conditioner from Rahua and then brush them through with the Manta brush – and that's it. I wait for my hair to dry – and it does its former magic trick of styling itself. The serum really restored my hair, period. "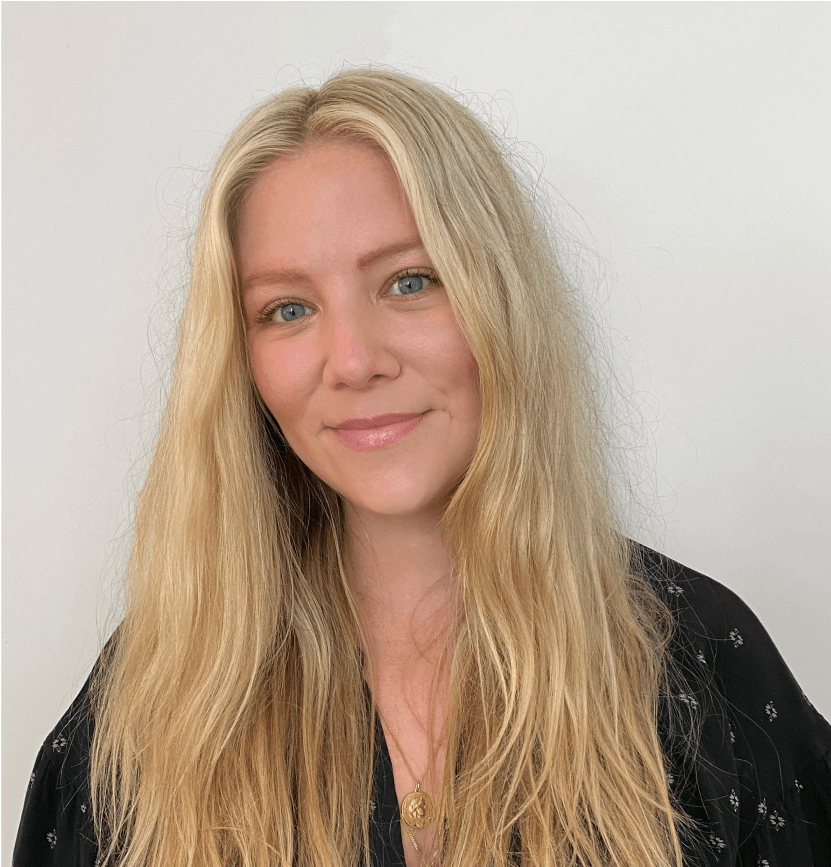 BEFORE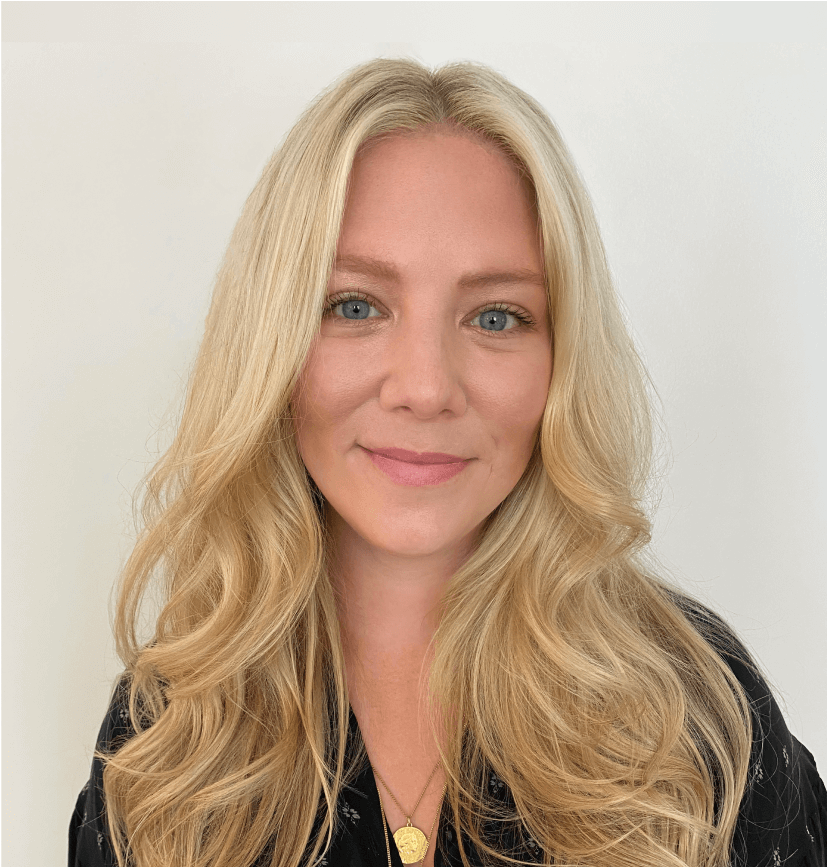 AFTER
"I've been highlighting my hair since I was sixteen, so it's dry and brittle, almost like straw," says Brianna. "But this serum gives me shampoo commercial hair: silky and super-shiny, and it feels healthier than ever. The next day, I couldn't believe how good my hair still looked – I usually have to re-style it and reload the dry shampoo, but somehow my hair was even better than the day before. (I've even got compliments from colleagues.) Since then, I've been using the serum two to three times a week: I massage two drops into my hair from roots to ends. Once it's in, I use a Deborah Pagani pin to pin my hair up (so pretty and so easy!) And take my pup on her usual morning walk. As soon as I'm back, I shower, shampoo with Rahua's color treatment shampoo, condition with the wonderfully scented Sangre de Fruta Conditioner, brush it out and style. (I love the new GAMA blow dryer – it dries my hair in record time and is incredibly light, making it easier to hold while I blow myself out.) "
Deborah Pagani Large Sleek Hairpin Goop, $ 90

SHOPPING NOW

Rahua Color Full Shampoo Goop, $ 38

SHOPPING NOW

Sangre de Fruta Garden of Earthly Delights
Goop Botanical Conditioner, $ 52

SHOPPING NOW

GAMA Italy Professional Hair Dryer goop, $ 400

SHOPPING NOW